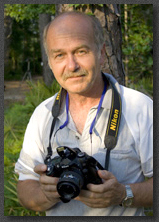 (photo by Mark Hollister)

I live on the Gulf Coast of Mississippi, and have been an active SCUBA diver for over 30 years. I moved here 11 years ago, where I became the photo editor of a local lifestyle magazine.

My images have appeared in ISLANDS, SPORT DIVER, South Mississippi Living and National Geographic magazines. A life-long love of the ocean compelled me to pursue a degree in marine biology after leaving the army.
I am a web designer, photographer, and computer consultant. Though web design and computer consulting occupy most of my time, my true passion is photography. Currently I have authored 10 Nature calendars, 5 of which feature marine life.